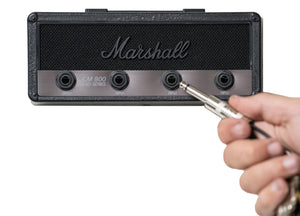 The officially licensed Marshall Amplification Jack Rack!
The all new Marshall Stealth Jack Rack is available now! Comes with a sleek finish, comprising of real amp materials, 4 Marshall guitar plug keychains, and 1 wall mounting kit with hardware to help you hang your keys like a rockstar!
COMES WITH:
4 Marshall guitar plug keychains
1 wall mounting bracket
1 wall mounting hardware kit
DETAILS
• Realistic amp texture
• Brushed black metal face plate
• Actual black amp fret
• Real rubber piping
• Authentic black Marshall plastic logo
• Built in amp handle
• Uses real amplifier inputs
• Uses real guitar plugs as keychains
SPECS:
Width: 8"
Height: 3"
Depth: 1.5"
Shipping Weight: 0.8 lbs